The information, inspiration and support to jumpstart a healthy lifestyle
Delivering a compact, concise and effective 30 day jumpstart programme to inspire a healthier lifestyle, The Lean Body Jumpstart ebook is the result of a dedicated collaboration between Brit and award-winning Gymbags & Gladrags blogger Cantara Armah. Inside you'll find 3 workouts to boost fitness, trim fat and build lean muscle. 15+ recipes to inspire a new adventure in clean eating. Helpful tips and realistic guidelines to design an active lifestyle you'll love. Plus real-life lessons from Brit and Cantara to help you have fun with your fitness journey.
This ebook is designed to reignite your love for fitness and ensure you benefit from smarter, faster results. That's why it's compatible on all devices, and equally easy to print off if you prefer a hard copy of your jumpstart guide. Make The Lean Body Jumpstart your go-to workout and nutrition companion for just 30 days – whether you're just starting out or have hit a plateau in your training, you're only a month away from a happy, healthy and committed new lifestyle.
Download now for just £9
High-intensity workouts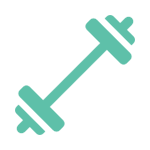 Commit to 3 weekly workouts, each designed to make you smile as much as you sweat. Not only will you get leaner; you'll get stronger and more confident with every workout.
Achievable nutrition advice
Learn how to create healthy habits around your existing lifestyle. You'll continue to enjoy the foods you love, and fall in love with some new ingredients along the way.
Quick and healthy recipes

Master several new go-to recipes for breakfast, lunch, dinner and snacks. On your plate in less than 30 minutes, these recipes are balanced, delicious and convenient.
Printable & device-friendly format
A printable meal planner, shopping list and workout schedule to help you plan ahead and stick to your healthy choices. Plus an easy-to-navigate digital format so you can reference the ebook whenever you need to.
What's next?
Ready to take the jump? Purchase The Lean Body Jumpstart for just £9 using the PayPal button below. Hold tight. Your very own edition of ebook will land in your inbox shortly. Any questions before or after beginning the programme? Email your queries to brit@fitbritcollective.com and Brit will be happy to help.
Download now for just £9
(Visited 503 times, 1 visits today)