In an age in which we are beginning to understand the connection between mind and body – and to demand more from our fitness regimes as we try to crunch more benefits into less workout time – it's little surprise that most disciplines are competing for the title of 'best exercise for mental health'. But how do we crown a champion? Here's a summary of the science-based arguments, an insight into my own mental health story, and my latest resource for working out to work in.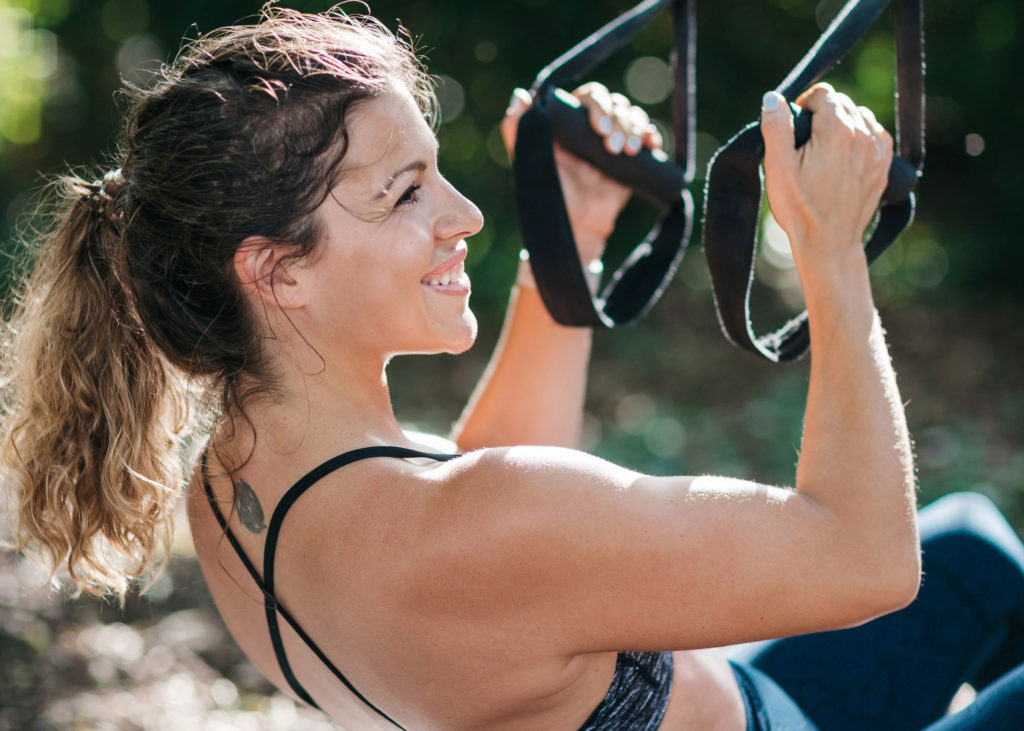 What the science says – the body as a conduit to the mind
Runners, cyclists, wild swimmers and adventurers fall back on ample evidence that more time in nature offers an improved state of mind. Yoga, Pilates and meditation enthusiasts champion breathwork for tapping into the parasympathetic nervous system to counteract the chronic stress epidemic responsible for the rise of anxiety and depression. While slates of studies in recent decades continue to put resistance training on top of the mental health food chain. The brain is a muscle, so it makes good sense that stimulating muscle growth can only serve to improve mental function and wellbeing.
My personal love for the versatility and multi-disciplinary nature of resistance training makes me inclined to shout about reviews like this one published last year in the journal JAMA Psychology, which considered 33 randomised control trials and summarised that lifting weights just twice a week consistently reduced and managed symptoms of depression – regardless of the individual's starting level of fitness. The benefits of doing substantially more were not substantially higher, so this review confirmed that mental health management via exercise is not a case of all or nothing, just the right kind of something. Better yet, the benefits stack up the moment you begin, regardless of how fit or skilled you are at the outset.
The field of neuroplasticity supports strength training, too. The Brain That Changes Itself is a best-selling book that highlights amazing science and even more amazing stories showing how the way we think and behave continues to transform our brains throughout our lives. Through the constant creation of new neurological pathways, you can transfer your skills, master new ones, improve mental agility and rewire your mindset at any and every moment – every single thought paves the way for a similar thought and corresponding action to follow in its footsteps. The skill-building nature of strength training – through the introduction of new exercise progressions and variations – lends itself well to continual neurological progression and self-development through movement. And as each lift primes the body for a subsequent, easier lift, so too does each positive thought lend itself to more forthcoming positivity.
What the heart says – my mind-body wellbeing story
Sure, this new wave science is striking chords, but mental health is a human story, and I'd like to invite you into the story of my own human exploration of mental health via movement.
First, a confession. While I've maintained a near-obsessive commitment to my physical health for as long as I can remember, I took a passive (at best) approach to my mental health – at times, I downright overlooked it. You see, I thought I was taking care of my mind by choosing exercise as my mental escape. In some senses, I suppose I was making a physiological investment in my main muscle. In recent weeks the media was shouting about the latest evidence proving exercise reduces or delays onset of dementia, after all. Yet, in pursuit of the PBs, I was literally trying to run further away from my emotional reality. The truth is: until about two years ago, I was scared beyond belief of my own mind.
If I think back to when my fascination with exercise really began, it was during my early teenage years, when events in my life meant that standing still for long enough to experience my own feelings made me so uncomfortable I would chose to run, lift, swim and MOVE over facing my own emotional reality any and every time. Cue the beginning of an obsession that would later become a passionate career – but the foundations were seriously unstable. At that time, I wasn't able to find the emotional support I needed as a young evolving human, and so my emotional maturity became stunted. Say what I felt? I didn't have the self-awareness to know how I felt in order to express it, even if I could find a safe space to share.
Instead, I gravitated towards coaching, and found I was creating a unique breed of mind training via strength training by encouraging my clients to reframe and make new mental connections through movement – a form of disguise and distraction from the disconnection in my own mind-body communication. It wasn't until I approached my 30's (nearly two decades into my well-practised habits of masking mental disconnection via physical rigour), when the responsibility of becoming a parent was triggering feelings of emotional abandonment in ways I could no longer out-train or ignore. The motivation to turn my attention inwards was suddenly far more urgent. I was a mother, and a role model to a new generation.
I found a perinatal psychotherapist to help me hold space in my life to first revisit the emotional blocks in my past, and then set about doing the internal work to unpick what I now understand was a form of trauma in my life. Gradually, I became more aware of the generational triggers I had inherited, and how self-awareness and brain training could help me to avoid sharing these experiences with my own daughter. My survival strategies of the past two decades no longer suited me, but I needed some external accountability to help me knock down the robust walls I had built. Between therapy and a mindful shift in my own strength training practice, I shattered one brick at a time and started to see new foundations take shape.
From my post-natal fitness recovery, I had learnt the power of the breath in re-sensitising the support muscles of the body during exercise. A regular practice of yoga, and some dabbling in meditation, had also taught me first-hand of the breath's powerful effect on the parasympathetic nervous system – the support system of the body, with a hands-on role in mental wellbeing. Bringing this conscious breath into my weight training practice was the first means of combining my emotional work with my physical work. I could channel the calm I created through movement into improved awareness of my mental inner workings.
Further, through rep-by-rep declarations of personally meaningful, emotional affirmations, I could lay down new neural pathways to assure me I am strong, my vulnerability is my strength and proactive positive thinking does train my mind whilst I move my body. And I could do this work in the one hour I knew I would consistently set aside 3-4 times a week – a whole-body wellness solution that was a timely and necessary discovery in my personal development.
What working in is all about
There will continue to be arguments from all exercise camps claiming the best benefits for mental health. Ultimately, the best exercise for mental health is the one that makes you feel good, that is grounded in positive self-reflection and self-progression, and that encourages you to tune into your mind while you move. In some cases, exercise is one piece of the mental health puzzle that requires conscious integration with other psychological practices – such as I did with my psychotherapy. In some cases, it may be a powerful first step in your mental health journey. In any case, I do believe that a proactively emotional approach to movement stands to benefit absolutely everyone willing to do the work… by working OUT and working IN.
Combining years of developing and coaching a physically-balanced strength-building practice, I am currently building an online programme of real-time workouts that incorporate the resources which finally allowed me to progress my practice beyond the physical. I will personally coach you through the workouts, using these tools, to help you become stronger in both body and mind. The course will go live in just a few weeks, but I'm inviting everyone to experience a few essential work-in tools right away. Sign up to my newsletter here and you'll receive my 'Strength for Every Chapter' e-book, complete with four simple practices to get you moving your body while taking ownership over your mental landscape. You'll learn how to recognise strength as a quality of character every bit as mental as it is physical, and to express your inner strength through improved powers of observation, perseverance, compassion, and positivity.
I'll leave you with a quote I've found particularly powerful during my own discovery of working in. Should you ever doubt the power of your own mind, and of your ability to train it as you train your body, know this:
No two people see the external world in exactly the same way. To every separate person a thing is what he thinks it is – in other words, not a thing, but a think.

Penelope Fitzgerald