The first thing I noticed was the space. Walking the streets of Copenhagen is a comfortably casual experience (I'll stop with all the Cs soon, promise!). At any one time there were easily several feet between me and the person in front or behind. The air feels fresher for it; the weight of the atmosphere that little bit lighter.
The purpose of the trip was strictly non-business, but while I promised my husband Ben I'd leave behind the laptop and workout gear, I still had every intention of embracing the more active options for sightseeing.
So naturally, I was completely jealous to exit our hotel and discover this 'running tour guide' beginning a sight to sight running tour. Restrained by my husband (but taking a mental note to research running tours ahead of future city breaks), we took off at a more leisurely pace.
Fortunately, streets like this make Copenhagen the perfect city for a stroll. Nyhavn is the one of Europe's most photographed spots, and its colourful buildings are instantly uplifting. But as the early March air was still crisp, we soon turned to another of the city's famous offerings to help us warm up: coffee!
There are boutique coffee bars (and not a Starbucks in sight) around every corner, so there were plenty of opportunities to warm up and get our bearings. And as both of us are big foodies, the first big circle on our map was the indoor market area of Torvehallerne…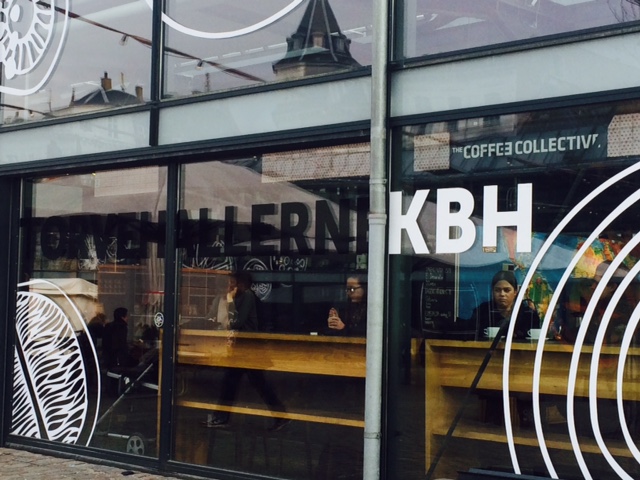 Copenhagen being a very health-conscious city, there were fresh produce stalls everywhere. This smoothie bar in particular caught my eye, and I grabbed a couple 'acai shots' to keep in my bag for an afternoon boost.
But ultimately, we settled on a rye bread sandwich from one of the most enticing delis I've ever encountered. This chicken, salad and sundried tomato creation may not look like much, but the signature mustard dressing gave it an amazing kick that makes my typical weekday lunch pale by comparison.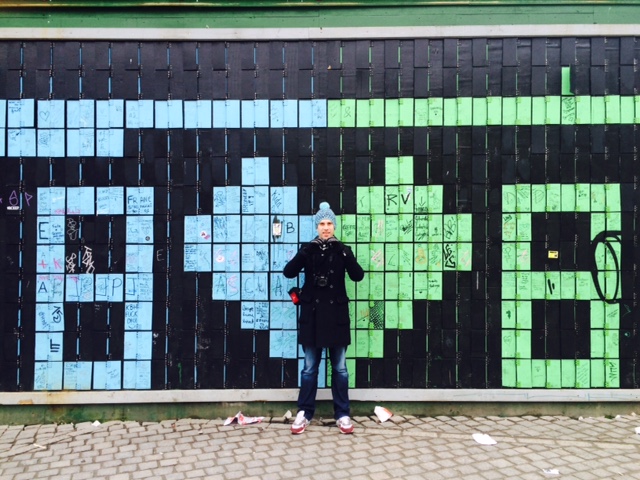 After lunch we continued our walk and absorbed some of the city's ambience. In a word, I'd call it free-spirited. This Happy Wall is a genius street-long art installation that allows passersby to turn over tiles and spell out a personal message. Here Ben demonstrates that the romance isn't dead…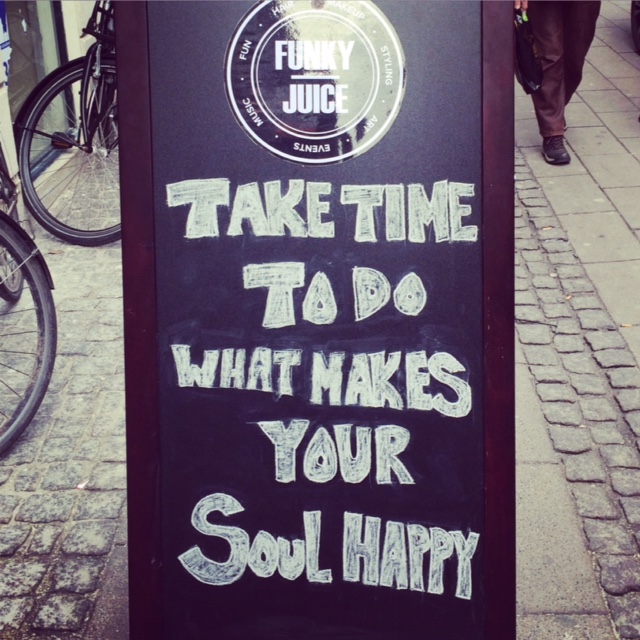 Quirky signs and motivational slogans are further dotted around the city, serving as constant reminders to make happiness a priority. Because sometimes we all need a little reminder. I know I did after spending a couple months buried beneath a mountain of work! (Look out for a dedicated post about improving your work/life balance soon…)
Of course, I can't talk about Copenhagen without talking about bikes. Cyclists are at the heart of the city's infrastructure, with elevated cycle lines and dedicated traffic lights to guarantee your peace of mind on two wheels. This little detour through a historic cemetery (we paid a visit to Hans Christian Andersen, which inspired several renditions of 'Under the Sea') was the perfect opportunity to show off the beautiful bikes we hired from our hotel!
All that activity ensured our appetites were up to Copenhagen's many fine dining options. It's rare that I abandon my lycra and trainers for a dress and heels, so having a Michelin-starred reason to put on my finery was a real treat. This salad of mussels and winter greens proved that kale is the king of cool in all types of cuisine.
Copenhagen's casual cuisine is every bit as delicious as its star-rated options. When I heard about Grod, a cafe that sells only porridge-style dishes packed with healthy ingredients like buckwheat, oats and vegetables, we made a beeline for our bikes and pedalled for our lunch.
Finally, another discovery I made (and am still enjoying as a regular snack) are these whey protein chocolates. I love scouring foreign supermarkets for new foods and ingredients, and anything that combines chocolate with fitness fuel is a non-negotiable addition to my carry on.
Speaking of which, our city break had to come to an end. We had just an hour to spare in the airport, where I ordered a green juice from the Copenhagen's claim to juice fame Joe & The Juice. Then I wiled away the time pencilling my favourite fitness classes into the upcoming week's diary. Three days' rest and I was already itching to get hold of my trainers!