Four days after my last post (circa 18 months, one eventful twin birth and a global pandemic ago), my third trimester ended abruptly with the arrival of my twin girls. In many ways, I feel like my Never-Neverland of a fourth trimester is only now coming to close, so forgive me for only now reflecting on the final weeks of my twin pregnancy and the early days of mothering multiples.
I was lucky to make it to 35 weeks and 4 days with my littles. Like many multiples' mums-to-be, I was prepared by obstetricians and midwives to expect a short third trimester. Meeting and surpassing the 32-week mark became the holy grail: the line-in-the-sand after which most professionals agreed premature babies are strong enough to survive without too arduous a stay in NICU. While this was a positive focal point for me at the time, on typing it now I realise how traumatic an experience it is to set survival milestones on the outcome of your pregnancy. I realise how little I thought about holding two bundles of brand new baby against my body, and how preoccupied I became instead with advocating for my unpopular wishes (more on that later) at antenatal appointments and sorting worst-case-scenario logistics for managing new babies in the hospital and a toddler at home.
Like all pregnancies, the third trimester is when things get real. It's simple maths, really. If you slash weeks off that trimester, things get very real, very fast. So consider the following a short, positive (but also real) account of 28 weeks plus with more than one baby in your belly.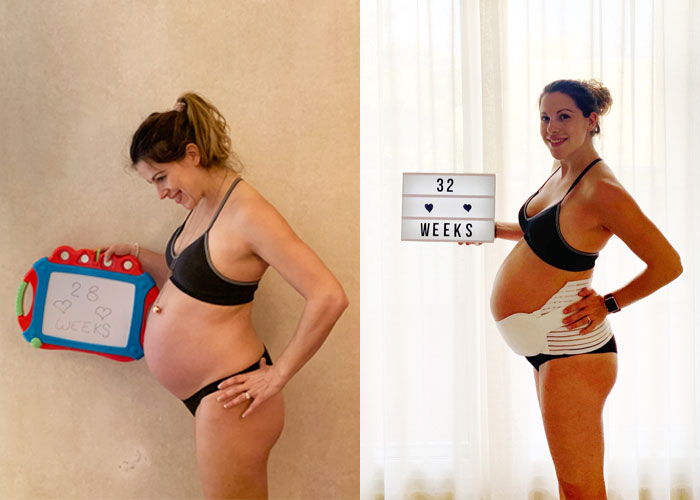 MIND
As I mentioned in the second trimester instalment of this series, positive visualisation was an important part of my twin pregnancy throughout. As the reality of bringing two babies into the world took grip, my visualisations became more real, too. Where previously I would imagine the happy faces of my midwives telling me that all was going well, now I would imagine getting up comfortably (from the birthing bed), walking confidently to my babies, feeling strong enough to care for them, and trusting in their little bodies being healthy and safe in my arms.
This became a grounding practice for me whenever I felt overwhelmed by an antenatal vocabulary full of words like 'risk', 'emergency', 'premature', etc. While I moved my antenatal care to a new country at exactly the transition from second to third trimester, I believe I would have navigated cautious advice for twin mothers whether I was with the NHS in the UK or with my private OB in the UAE.
My ability to remain optimistic and challenge this twin pregnancy advice (with appropriate understanding of the evidence), was in big part enabled by hiring a doula highly experienced in supporting multiples and/or high-risk births. Educated in the very latest science, and with a little black book full of leading experts in antenatal and neonatal medicine, she could signpost me to objective information and soundboard my (complicated) feelings to help me reach my own conclusions. Importantly, doulas do not direct you towards their personal preferences, but instead help you to feel comfortable with the decisions you make, and advocate for you to ensure your wishes and choices are heard and respected within your antenatal support team.
(It's impossible to reference the benefit of doulas without praising and naming my own: Lala Langtry-White. She is a force of proactivity, positivity and progression for mothers in the UAE and globally – she's even remotely supported births abroad, and become a friend and confidante to many in the face of the exceptional demands presented by the pandemic in recent months. I would strongly encourage any woman with a pregnancy classified as high-risk to reach out to her or a fellow doula who specialises accordingly.)
For me, it was hugely important to my mental health that I could ask questions and receive scientifically-supported, unbiased answers. It was crucial to me that my doctors remained open to supporting a vaginal birth if it was safe for my babies and me. Feeling heard, respected and supported are the pillars of maintaining a healthy mind during pregnancy, so equipping yourself with the support you need to speak freely is the best advice I can offer.
The third trimester overview below is a one-page extract from my book Mind, Body, Bump, so you can quickly get to grips with what's going on in your body. From here, it's time to make confident steps to achieve the antenatal care, the birth and the postnatal help you need to feel empowered and supported as a new mother (particularly if your circumstances are more challenging than you might wish).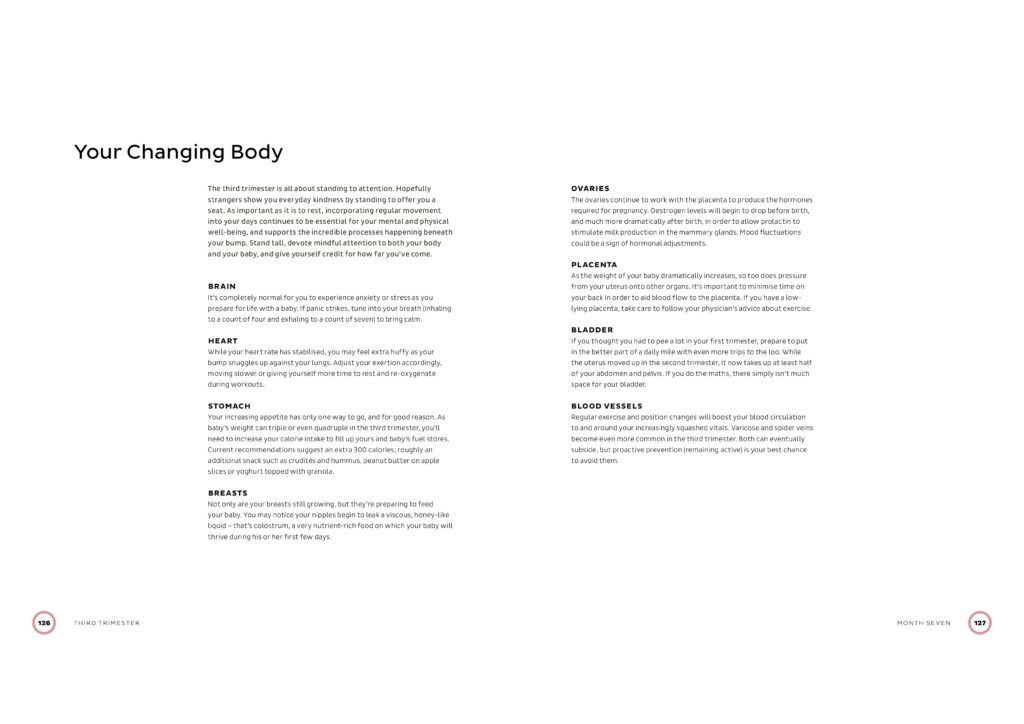 BODY
Exercise in the third trimester of a twin pregnancy is, well, not really optional. If you're moving, you're exercising. In 2019, scientists found that pregnancy exceeds the energy expenditure of every athletic pursuit, maintaining the maximum possible metabolic output of 2.5X BMR – equivalent to running a marathon – for months on end. Now add another baby to the mix. The human body is stretched to its limits internally and externally during a twin pregnancy. For me, the rate of bump's growth between 28 and 32 weeks was especially astonishing.
Moving my body at this stage became more of antidote to my regular daily movement, rather than additional activity. With a tot in tow and a new house to convert into a home, it was difficult to find time to put my feet up. The pull of my bump and extra gravitational weight invariably accumulated, so offloading my back and pelvis was key. Exercises supported by the Swiss ball – like this sequence from my Instagram grid – would gently fire up my glutes and allow me to re-connect with my core, while taking much of the work out of my lower back.
Positions that opened my pelvis and softened my pelvic floor – child's pose and supported butterfly, for examples – felt particularly nice, as these muscles were overworking big time to keep me upright (and dry). I'm pleased to report it (mostly) they held its ground, but a belly belt was also a welcome addition to the support squad when I knew I'd spend much of the day on my feet. It adds gentle support under and around your bump, which I found also reminded me to activate the underlying deep core muscles – twin pregnancies take team work!
Speaking of time on your feet, I want to take a moment to talk about commonly-prescribed bed rest during twin pregnancies. Nearly every third trimester twin-mum-to-be I've known has been recommended bed rest. Due to the extra weight of the uterus, the cervix can weaken and dilate much earlier when you're carrying more than one baby. OBs have a number of solutions up their sleeves, including cervical stitches, pessaries, and of course bed rest. Reducing pressure on the cervix does make good sense if you find yourself in the position (as I did) of having a condom-wrapped camera shoved up your vagina every week to determine how much shorter your cervix is from one appointment to the next. BUT – and it's a big but – strict and prolonged bed rest also results in deconditioning of the very muscles you're going to need onside when you do bring those babies into the world.
Instead of accepting a ban of all exercise, ask your OB what kind of exercise alternatives may be appropriate for your circumstances. I pushed back and agreed a number of movements that allowed me to keep active without adding to the downward pressure on my cervix. Seated, supported recline, forward leaning and all-fours exercises can in fact help you recruit your pelvic and core support muscles to better resist those downward forces!
Researchers at the University of Alberta also pushed back on this popular anti-exercise prognosis. In a 2020 report for the British Journal of Sports Medicine, they presented evidence to challenge the classification of twin pregnancy beyond 28 weeks as an 'absolute contraindication to exercise' for this very reason. Instead, researchers advise its demotion to a 'relative contraindication', encouraging more case-specific considerations so that more expectant twin mums can continue to enjoy the many benefits of appropriate pre-natal exercise.
BUMP
I've already mentioned weeks 28 to 32 – blimey, those four weeks feel like an entire pregnancy in themselves. I went through half a bottle of Mama Mio oil to calm my itchy skin, discarded any tightly fitting fabric to the back of my wardrobe and sometimes had to physically lift my bump just to marvel at how remarkably robust my middle had become. Any semblance of squishiness disappeared – I had a boulder for a belly, and no desire to long for 'rock hard abs' ever again. However, those sandbag carries I used to practise (with reluctance) in Crossfit-like classes became a laughing matter; I was stronger than I'd ever imagined I could be!
Then the growth slowed a bit. I went from waking every morning (straddling a Bbhugme pillow like a life raft) with the confidence that my girls were growing and thriving, to hesitating on the bedside and waiting anxiously for kicks to reassure me that everything was OK. My visits to the OB confirmed that the girls were pumping the brakes as we approached a somewhat terrifying intersection – the girls were running out of space and would soon be looking for a green light for birth. Still on the small side, we'd need to prepare them accordingly. At 34 weeks, I had steroid injections to advance their lung development. My induction was booked for 36 weeks, with near-daily monitoring in the interim.
As I sat in a hospital bed the day before they were born, watching their two heart beats flicker in and out of sync with one another, I found the quiet time so eery. Too much space to ruminate, speculate… and wait. Less than 24 hours later, their noisy post-birth cries would prove the relief for which I'd been waiting. (Note: 18 months later, I've never longed for the quiet like I do now, ha!)
We didn't make my planned induction. The babies', taking after me for sure, had ideas of their own. But that's another story I've previously shared on Instagram. I know the choice to read birth stories is hugely personal while you're pregnant, so if you would like a (positive!) account of a twin birth, please read my story here. Or, skip ahead to my next post, which will summarise a fourth trimester wilder and sweeter than I could have ever anticipated.
TWIN TALK
I've now written in some depth about a lot of the unique learnings from a twin pregnancy in the third trimester, but here are the bullet points I think you need to know when your twins' arrival is fast approaching:
For dichorionic, diamniotic (DiDi) and monochorionic, diamniotic (MoDi) pregnancies, NICE guidelines do recommend that a safe vaginal delivery is possible if the first twin is head down. Depending where your antenatal care is based (and whether you are in a private or public healthcare system), you may receive different advice. Make sure that any advice which deviates from this is for good reason, and specific to your circumstances; not due to a non-evidence-based bias by your provider.

Also know that, if you are concerned about your delivery and feel safer with a Caesarean section (or circumstances dictate that a Caesarean section is medically safest), your wishes should be heard and respected. There are many ways to make an abdominal birth intimate and powerful. Doulas are fantastic at enabling this, but many OBs will also allow and encourage options to personalise the operating room and help you feel calm and supported during your section.
When it feels like a lot can go wrong with a twin pregnancy or delivery, remember that a lot can go right, too. It's useful to consider what you would do in the face of certain challenges like extended NICU time, where you may have to move between home and hospital or divide your household to care for other children. Put the necessary contingency plans in place, then put a pin in them and move on to focusing on all the things that can and will go wonderfully right. Knowing that you can cope with anything will free up valuable headspace to hold positive affirmations of those first cuddles (there will be lots of them!) and precious moments of early bonding (between them, too – it really is special).
Offload your lower back and pelvic floor as much as possible. Consider using a belly band around the house, factor in more active exercises like bridges and seated leg marches to maintain your strength, do deep belly breaths daily to practise using your core to hug your bump, then spend time passively resting with your pelvis open in positions like child's pose and supported butterfly.
Enlist the support you need now and think you may want after your twins are born. This really is a once-in-a-lifetime experience. Really, how likely is it you'll ever give birth to twins (or more) again? I can't recommend enough having a doula onside, who supports you both pre-natally and post-natally, and who helps to signpost to other support you may need, such as lactation consultants, sleep consultants, night nannies and more. Alternatively, research and reach out to your preferred providers for logistical support you may need down the line, so that you can easily put solutions in place for challenges as and when you face them. Is there a good community of multiples mums you can join offline or online? Join it now, and make friends who are or will be in the same boat as you! When things get shaky, they'll help you hold the oars steady. I'll share more about some of the postnatal support I found invaluable in my fourth trimester blog to follow.
For more pre-natal wellness support, pick up your copy of Mind, Body, Bump today. If you missed my earlier blogs, you can read here about the first trimester and second trimester of my twin pregnancy. Or jump to the fourth trimester now.