Emily and I talk for 60 minutes straight, bar the odd lactate inflicted silence when my brain can focus on nothing but the final few reps of barrecore's trademark high-rep conditioning sequences. Work, travel, fitness, boyfriends/husbands – we cover off most topics of conversation, and still she keeps a perfect rep count. That client repertoire is what elevates the experience from a busier in-gym personal training session. It's therapy and exercise in one. And it's just one of the tricks that barrecore PTs employ to distract you from the Garuda's unique form of torture.
An offshoot of the Reformer Pilates Bed, with a wider frame and greater variety of attachments, the Garuda is a comprehensive strength training machine that would surely have a place in the Red Room of Christian Grey. But its primary and most beneficial purpose is functional multidirectional conditioning, which is at the heart of barrecore's PT offering.
I tell Emily that I'm building up my core strength to master my yoga inversions, so she starts me off with a lengthy series of teaser variations generic viagra for sale in usa. I complain how I rarely feel any form of DOMS in my abs. Accepting the challenge, she increases the effort until there's so much heat through my rectus abdominis and deep-set transverse abdominis that I have to watch TV in a permanent upward dog position. I've been a long admirer of the 'barre burn', but this is a more personalised kind of pain altogether.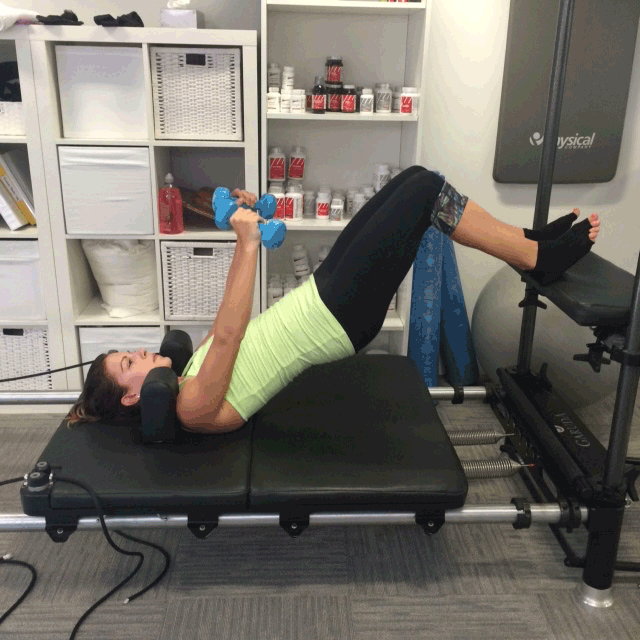 Recognising one of the most common curses of a deskbound professional, Emily also identifies a subtle muscular imbalance and targets my 'lazy glutes'. She orders a set of double and single leg bridges, with the added task of chest pressing a pair of dumbbells and keeping the Garuda platform perfectly stable. My hamstrings briefly cramp up, which leaves me with the satisfying certainty that my muscles are working to exhaustion.
Every barrecore PT session is carefully choreographed to create balance through the body, so to complement my bridges I complete a set of step-ups with a killer stiletto toe calf burn to finish. And to round out my teasers, Emily hones in on my upper back muscles with a full-body row that requires me to pull the carriage towards the frame to activate my lats, scapulae and rhomboids. The motion is delightfully fun – think pull-ups but lying down – and I stand up from the Garuda feeling my posture noticeably improved.
Finally, it wouldn't be barrecore without without an abs blast to finish. These carriage knee crunches are a breeze to begin with, but the single leg variations take me by surprise with their full-body activation. Soon barrecore's signature muscle shakes course through my abs and legs simultaneously. The final rep comes as welcome relief.
Whether you're a regular at the barre, a Pilates enthusiast or a master yogi, personalised sessions with barrecore are a natural way to progress your training and learn dynamic and isometric sequences tailored to your goals. Every programme and every session is unique to you – so HIIT fanatics like me would get a kick out of extra cardio bursts at the barre or using the in-studio trampoline or sliders. While those who like a slower more controlled pace can meet all their workout needs with a combination of barre, weights and Garuda exercises.
"Sometimes clients come in and just want a solid hour of stretching," says Emily. "That can be really beneficial too, especially when you just need dedicated time to release tension from the body after a particularly stressful day." Whatever the goal, I get the impression every session with Emily would be a pleasure. With a gentle cool down and big hug to celebrate a tough workout in the bag, she feels more like a skilled and knowledgeable friend than a professional there to provide a service. Which, I think, is a service worth every penny.
barrecore PT sessions start from £70, with the option to add nutritional counselling to identify your intolerances and complement your workouts with bespoke nourishment.