Going to the gym has so many benefits on top of getting fitter, among which is definitely healthier looking skin and that just-exercised glow. If I skip the gym for more than a few days, my skin looks duller and I get a collection of noticeable pores in the crease of my chin and around my nose. Sweating is such a great way to cleanse the skin of toxins and bring the blood closer to the surface – the reason for that much-revered glow.Movie Fifty Shades Darker (2017)
Pre-workout beauty prep
Of course, the number one beauty rule before working out is to remove any make-up! The pores in your skin will open up as your body begins to sweat, and you don't want any lingering creams or powders to fill them up when they do. I carry Simple Face Wipes in my gym bag at all times. They're quick, hassle-free and almost always on a 3 for 2 offer at Boots. So I usually pick up their Replenishing Moisturiser to rehydrate after my workout and before applying any make-up.
Perfect post-workout coverage
After a particularly tough workout, it takes ages for my skin to cool down. I like to let it breathe, so I apply just a thin layer of this Hourglass Primer called 'Veil'. It's a staple with women in the Middle East because its ultra lightweight and helps to control shine under even the most extreme circumstances. It also makes your skin super soft, so it's a great base before applying your alphabet cream or foundation. I often go without, but if I'm heading out on the town and want a bit of coverage then Clarins' BB Cream is my absolute go-to. For fuss-free post-gym prep, I apply both the primer and BB cream with my hands. No sink? Those Simple Wipes will come in handy once again!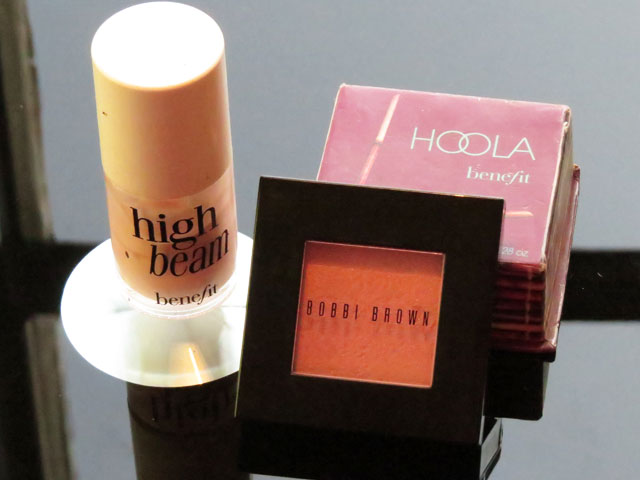 Prolong your healthy glow
Benefit and Bobbi Brown are two brands I always trust to give my face extra definition and colour. I like Hoola Bronzer by Benefit because it doesn't have any sparkle, which can add unwanted shine after a workout. Where I do like a touch of sparkle is on my cheeks.  Bobbi Brown's Shimmer Blush in Pink Sugar adds a lovely pop of colour and works really well with Benefit's High Beam cream as a highlighter. I brush the Hoola powder all over, then make a 'pucker' face and sweep the blusher along the contour of my face. To finish, I use my fingers to gently blend three dabs of High Beam right on the cheekbone. I love how it catches the light when I venture into the sun.
Big up your eyes
The one make-up product I never miss out is mascara. I've searched high and low for a mascara that consistently creates mega volume. Benefit's They're Real is my favourite because it uses a clever brush with bristles all around the tip to lift even those tiny lashes at the end of your lashline. When I have time, I also line my upper lashes with a Magic Ink cat flick and balance it with their charcoal-based Bad Gal liner along the bottom.
One of my biggest beauty dilemmas has resulted from overplucking – I have sparse bits in my eyebrows that can take away from their shape.  I don't like to spend ages on my brows though, so a quick touch-up using the 'blonde' No.7 brow pencil is perfect for filling in the gaps.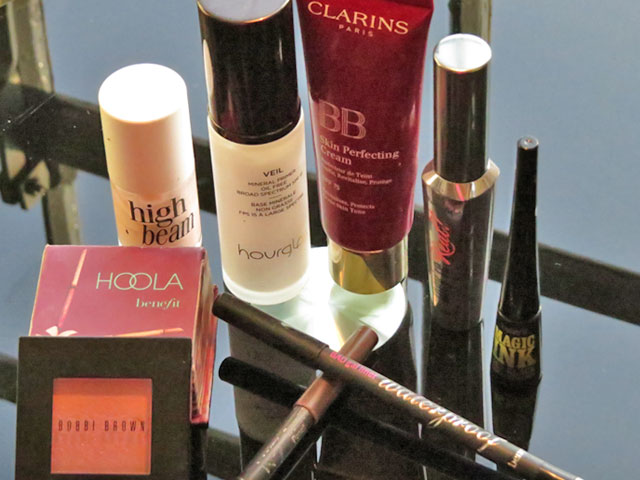 Voila! These nine miracle-workers transition me from the locker room to the great outdoors in five minutes flat. And they make all the difference compared to the sweaty mess I am when I first finish a workout!