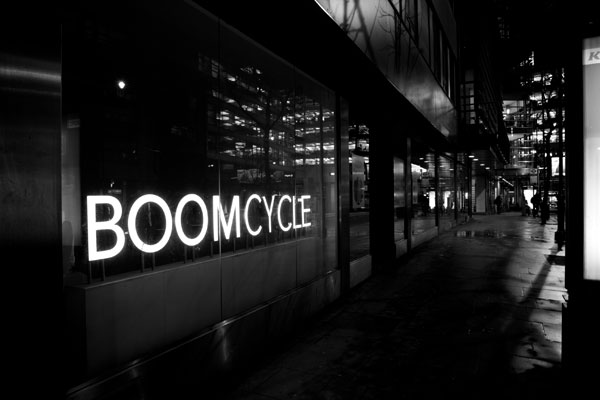 'Low' by Flo Rida was blasting through the sound system and our instructor Hilary Gilbert was bodypopping on the bike (who knew that was possible?) at the front of the room. We were five minutes into the spin class at BOOM Cycle Holborn and already the pains and annoyances of the day were ancient history. I mean, bodypopping on a bike!
BOOM Cycle certainly lives up to its Twitter bio promise of "hedonistic endorphins and high intensity workouts to nightclub quality music". I haven't shaken my backside with quite so much vigour since, well, probably since a hen do in Chester a couple weeks back. But I promise, those kind of explicit moves are usually reserved for rare seasonal highs. Like the office Christmas party (I'm changing jobs next month, so I consider that fair warning to any future colleagues who may be perusing these pages).
Yes, I guarantee you'll have a good time at BOOM Cycle, and you'll definitely get an entertaining eyeful if you dare to break your own bubble and look around the (low-lit and mercifully flattering) studio. I also guarantee you will sweat buckets. I had moisture on my brow in a matter of minutes and by the time I was sprint jumping to Five's 'Got the Feeling' (approximately 15 minutes in) I'd perspired my way through a now sodden towel and surrendered myself to the dripping, blissful high of a seriously inspiring workout. When the cool down comes 'round (the 45 minute mark creeps up before you know it), there's nothing you can't muster enough confidence and gusto to achieve.
Highlights
State-of-the-art bikes – BOOM Cycle uses ultra-smooth Schwinn bikes that respond to even the most subtle tweaks so you can build your resistance gradually and effectively. They're also the comfiest spin bikes I've ever planted my butt on – and that's saying something.
Can't-top-it energy levels – Hilary makes it no secret that the BOOM difference comes down to attitude. Most gyms can put on a decent spin class with the pre-requisite number of intervals to help you burn fat and get fitter, but BOOM goes well and truly beyond with the most impassioned instruction I've ever witnessed. At one point Hilary lost her microphone in a frenzy of studio dance antics (off the bike, this time).
History-making tunes – There were 80s sensations, 90s chart-toppers and iconic 21st century hits. I rediscovered some old-time favourites too long neglected, and picked up some contemporary music cred, too. As every track faded out, I couldn't wait to see what would come next, which certainly helps you stick out the class.
I'll be back for more. In fact, I'm consulting my diary just now to book in for one of BOOM Cycle's brand new Beyonce spin classes. WWBD? Spin, she'd do spin! To book a class at BOOM's original Shoreditch or new Holborn studio, visit boommybody.com.