Sometimes the happiest accidents happen when you don't know what to have for dinner. My now-favourite salad recipe was precisely this kind of accident. I'd just survived a tough new workout (one you'll be hearing all about soon) and my stomach was rumbling when, on my walk home, I was filled with panic at the realisation that my fridge was empty with the exemption of a couple chicken breasts. So I whipped 'round my local Sainsburys and grabbed some ingredients I could only hope would go together.
Now, I once saw chicken a necessary evil.  One time on a plane, I cut into a breast so dry it squeaked. I could barely chew it and when I swallowed it proceeded to slink awkwardly down my throat. I came very close to using the precautionary sick bag in the seat fold, and to ruling out chicken for the rest of my life. But as poultry is one of the leanest and most nutritious protein sources around, it was worth reviving my relationship with it. And this recipe did just the trick.
Not only does it provide that satisfying flavour hit you deserve after a workout, but it also delivers nearly 30g of protein and a host of vitamins to fast-track your recovery. Plus, the satay adds succulent texture to the chicken and sends a small serving of natural sugars to your bloodstream to restore your energy levels. And it's on your plate in 10 minutes flat!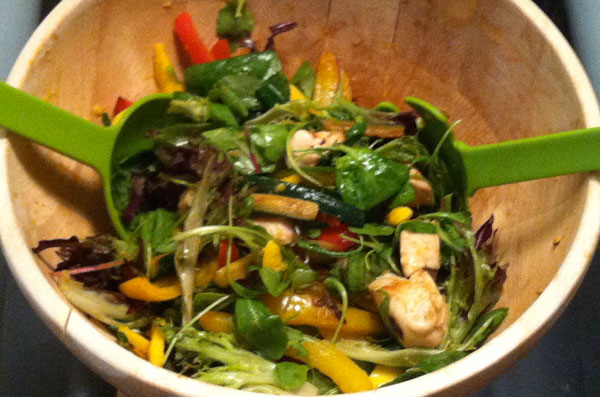 Fill your basket:
2 x organic chicken breasts
1 bag wild rocket and spinach salad
1 red pepper
1 yellow pepper
1 jar satay sauce (you could make your own, but let's imagine that like me you've just had a big workout and are too ravenous to spend a second more in the kitchen)
1 bottle balsamic vinaigrette
How to make it:
1. Slice your chicken breasts into lean strips and pan fry on medium heat in a non-stick pan.
2. Cut both peppers into long pieces and add to the pan once the chicken is sealed.
3. Mix a tablespoon-size dollop of  satay sauce over the chicken and pepper mix and stir for 3-4 minutes until the chicken is thoroughly cooked and the peppers have softened.
4. Place a generous handful or two of salad in a large serving bowl and spoon in the contents of the pan. Mix well and drizzle with just a touch of balsamic glaze to finish.
5. Dive into dinner for two (or dinner and a leftovers lunch for one).
 Have you added any 'happy accident' recipes to your repertoire? Leave a comment and share them with the Fit Brit Collective!