I first encountered Pilates during a babysitting shift as a young teenager. The family's two kids had gone to bed and I was rifling through their DVDs to fill the last couple hours of the night. Right between Ghost and Clueless was a somewhat retro-looking Mari Windsor workout DVD that promised lean legs and a sculpted tum. I popped in Clueless but made a mental note to check out Pilates videos during my next trip to the video store.
In those days, Pilates was thought by many to be the preserve of middle-aged housewives. But in the noughties, the rest of the world woke up to the benefits of strengthening and lengthening muscles via small, controlled bodyweight movements. For my 13th birthday I received an MTV Pilates mash-up, featuring 20-somethings with taut bodies and cheesy all-American grins. I could choose to isolate my arms, abs, bum or legs – or to build my own workout using any of the above sequences. And I could select a soundtrack of pop, rock or R&B songs. Had Pilates got cool? It was well on its way…
Fast forward 15 years and classic floor Pilates has evolved to include many more branches of Pilates-inspired workouts using a greater variety of apparatus than a medieval torture chamber. But victims of the specialist Pilates studios in London enter by their own volition, and walk away with the glowing faces of someone who's just completed one of the world's most effective workouts.
Here are the must-try disciplines to tick off in your search for the school of Pilates best suited to you…
Classic Mat Pilates
This is Pilates as it was conceived by Joseph Pilates. Using nothing more than your bodyweight for resistance and your core for support, you take on a sequence of moves designed to target both major and minor muscles in your body. The foundation for all other Pilates disciplines, this is the best place to master your 'neutral spine' and 'corset abs'.
Where to try it? @TriYogaUK – Not just a yoga destination, TriYoga's team are experts in functional movement and its four citywide locations are a great place to learn Pilates, whether you're just starting out or progressing your Teaser.
Reformer Pilates
Invented to advance the art and skill of Pilates, the reformer bed adds another dimension to your workout. Complete with a sliding platform, cables to pull or push your bodyweight in a variety of different ways, and weight selections to increase or decrease the resistance, Reformer Pilates is a full-scale gym in a single unit.
Where to try it? @Heartcorelife – With seven locations in London, Heartcore reigns strong in its dominance over the Reformer Pilates market. Expect best-in-class beds and beautiful venues.
Chair Pilates
The Pilates chair is another development since the reformer bed. You complete the workouts whilst upright and engage every muscle using bars and steps designed to increase or decrease the weight of your body for resistance. My favourite move on the chair is the pike, using mostly your core and a bit of your arms for stability to shoot your bum up to the ceiling. In my head I'm a gymnast. Even if the mirror doesn't necessarily agree…
Where to try it? @TransitionZone – Run by the always glamorous Claire Finlay, this trendy Fulham studio combines the best fitness innovations with tried and tested exercise principles. You can even pair Chair Pilates with cardio on the Powerplate for a super-efficient session you can squeeze into the work day. And the on-site Recovery Cafe provides a comfortable place to hang out post-workout and treat yourself to homemade healthy treats.
Tower Pilates
If a Transformer and reformer bed had a baby, the result would be the Pilates Tower. As well as the varied weight selections and pulleys to engage even the muscles you didn't know you had, the tower has extra structural components you can unlock to add new angles to your workout. Some experience in Pilates is recommended, as there's less support for advanced moves compared with the reformer bed.
Where to try it? @BePilates – Easily London's most pristine Pilates location, this Marylebone studio is so well-equipped it's evolved into a training centre for Pilates teachers-to-be.
METcore Pilates
Little more than a foam roller with cables at one end, the minimalist METcore reformer is far more challenging than it appears. Your balance will be tested as you perform the exercises barefoot and move through multiple planes while staying in complete control of your body plus lightly weighted cables. Core stabilisation is key. And a welcome side effect is the myofascial massage you get from the foam roller as your rest your feet or back against the METcore base.
Where to try it? @FormStudiosLdn – Launched this year by an original Heartcore instructor, form combines the minimalist METcore machine with HIIT intervals on the TRX and Ski Erg. The result is a full-body, all-purpose workout that ticks all your boxes for strength, toning and cardio conditioning.
Cardio Pilates
If, like me, you don't feel that you've worked out unless you've worked up a sweat, Cardio Pilates is the thing for you. As well as all the best tum toning moves from mat or Reformer Pilates, these sessions introduce heart-pumping cardio intervals on the floor or using other equipment like weights, kettlebells and TRX to maximise fat burn and multiply the benefits of your workout.
Where to try it? @PilatesPT – Founder of the well-known conditioning-meets-HIIT Model Method training technique, Hollie Grant's private Pilates studio in Fulham is without doubt the most premier place to experience Cardio Pilates with a pro.
Bootcamp Pilates
When I think about bootcamp I think about camouflage and mud. Or of the peanut butter milkshakes at Barry's Bootcamp in Euston. But Bootcamp Pilates is somewhat different. There are no cruel drill sergeants – only well-trained Reformer Pilates instructors who fit a 'jumping board' onto your bed so you can push off it during explosive exercises like horizontal jumping squats. It's similar to Cardio Pilates, but you don't even have to get off the bed. Mind you, getting out of bed is a prerequisite.
Where to try it: @MoveYourFrame – The 'it' studio of the East End, FRAME Shoreditch and FRAME Queenspark have dedicated space for Reformer Pilates and Reformer Bootcamp classes. I love that they keep numbers to a handful so the teaching remains highly personalised.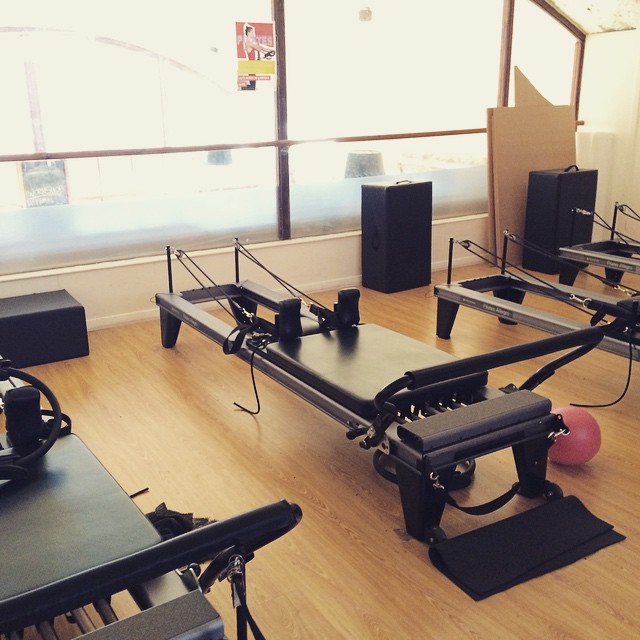 Piloxing
Another fusion Pilates workout you may have heard of in recent months is 'Piloxing'. As you've probably guessed, it combines the principles of Pilates with those of boxing. Which makes perfect sense, because when have you ever seen a boxer with anything less than a six-pack? Piloxing is still limited to a few of gyms in London and I have yet to try it for myself, but it's top of my to-do list!
Where to try it? @PushStudios – A Southeast London multi-discipline gym that has received plenty of press since introducing Piloxing to its timetable. (Here one Daily Mail journalist gives her first-hand report.)
Ready to take your Pilates to the next level? Have I missed your favourite studio off the list? Leave a comment below to share your own experience!