I've heard through the grapevine that my super simple coronation chicken recipe has become a staple for many of you. I love learning that my practical tips, recipes and workouts are helping you embrace a healthy lifestyle. In fact, it's affirmations like these that inspire me to think up new posts and get more and more creative in the guides I put together. So before I launch into the second recipe of this series, I want to take a moment to thank YOU for giving me your time and your eyes.
When I launched Fit Brit Collective almost a year ago, my biggest hope was simply to keep up the momentum. Today I have a growing community of supporters, new professional qualifications to my name and a bank of ideas and aspirations that all branched from the special seed that is Fit Brit Collective. I'm setting the bar high – and that's because of you guys who have stood by me since day 1. OK speech over. I say we celebrate with a new lunch recipe to make you the envy of the office…
After lunching out at Caravan in Granary Square last Monday (a meal made all the sweeter having taken a day off work to extend the weekend), there were so many incredible tastes I wanted to take away with me. Do yourself a favour and order the Chickpea Chips when you go. I haven't even dared to attempt them here because they're a thing of perfection that just can't be recreated. The Smoked San Simon and Jambon Croquettes are pretty tasty too, but then they're basically deep fried balls of cheese and how can that not be delicious? With a little research, I did feel confident adding a healthy homemade twist to the Caravan staple that is a Miso Baked Aubergine extravaganza that melts on your tongue, relaxes the back of your throat and brings your eyes to a close – all signs of a seriously sensual dish. And I've added a side of protein to make sure your lunchbox packs in all the macros. If you crave a change from chicken, it also tastes great with poached salmon or tuna mayonnaise.
Save this one for a lazy Sunday afternoon when you have some time to kill and want an extra special treat to see you through the week. From start to finish it will take about an hour and 15 minutes – in return you get to enjoy six portions of delicious lunchbox-friendly meals. So you don't waste a single second debating what to do when your tummy rumbles…
Miso baked aubergine with sweet potato wedges and shredded chicken
Makes 6 servings 
Ingredients
For the aubergines and sweet potato wedges
3 aubergines
4tbsp miso paste
700g sweet potato
3tbsp coconut oil
2 garlic cloves, crushed
Large handful spring onions, sliced
1tbsp ginger, grated
For the shredded chicken
4-6 chicken breasts
300ml chicken stock
Method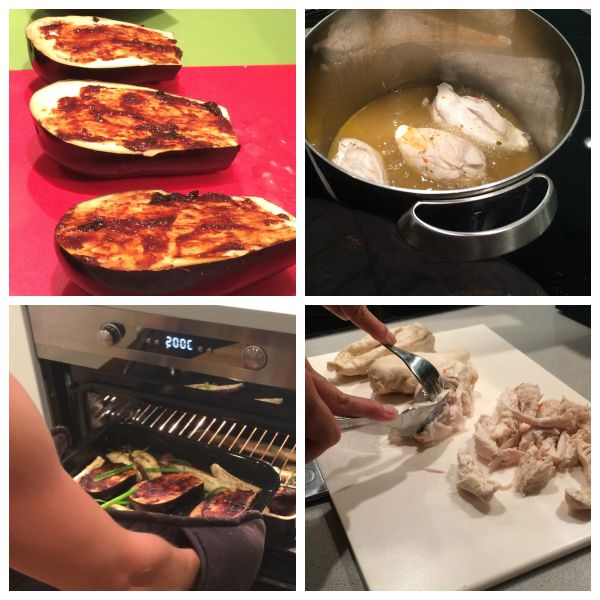 1. Pre-heat the over to 180 degrees Celsius. Prep the aubergines by cutting them in half and spooning the miso paste generously over the exposed surface. Prep the sweet potato by cutting into large wedges. Spread the aubergines and sweet potato evenly over one large roasting tin, or divide between two smaller ones.
2. Mix 300ml of boiling water with the coconut oil, ginger and garlic. Pour this into the base of the roasting tin. Finally, sprinkle a pinch of salt over the sweet potatoes and pop into the oven for 50 minutes.
3. While the veg cooks, place the chicken breasts in the bottom of a large well-oiled pot or pan and gently heat for 5 minutes or until one side is golden brown. Then flip the chicken and cover with 300ml chicken stock. Let the stock come to a bubbling heat and slowly poach the chicken for another 5-7 minutes or until fully cooked through. Let the cooked chicken cool before shredding it using a fork to flake away one succulent piece at a time.
4. When 50 minutes is up, sprinkle the spring onion over the veg and roast for a final 10 minutes. Serve up hot or pack away into your lunchbox for gourmet reheats!
How much time do you spend on lunch prep? I'd love to hear about your midday munching habits, and whether there are any particular tips you'd like to see in my next healthy lunch prep post! Leave a comment to have your say!